Interview with Bagoré Bathily, Founder and CEO, Laiterie du Berger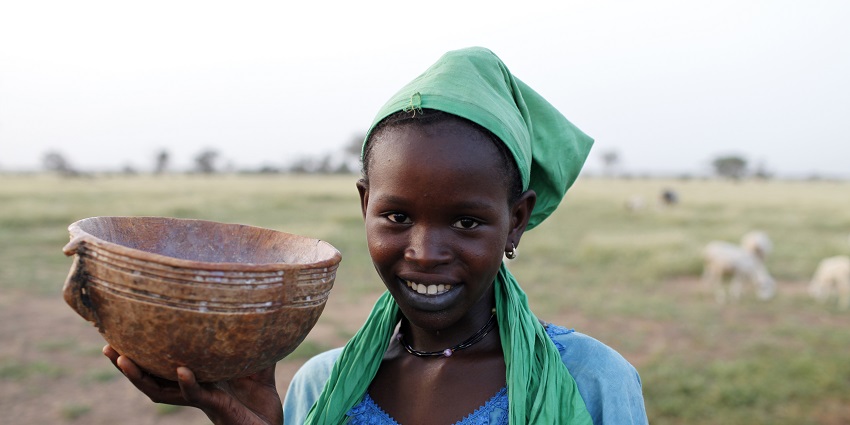 A committed player to the professionalization of the dairy sector, from its dairy factory located in the Saint-Louis region in northern Senegal, Laiterie du Berger is based on a local supply organisation considered a model in Sahelian Africa. A social impact company in which the Foundation is a shareholder, it continues to flourish thanks to the implementation of its subsidiary Kossam SDE, a livestock development company. This is an interview with Bagoré Bathily, Founder, Chairmain and CEO of Laiterie du Berger.
– You created Kossam SDE, a subsidiary of Laiterie du Berger. What is it?
Bagoré Bathily, CEO of Laiterie du Berger: The Kossam project started in 2017 with a Solidarity Bankers mission, a a skills volunteering programme of Crédit Agricole, carried out by Jonathan Michaud, an agricultural engineer from Crédit Agricole Franche-Comté, who today heads Kossam.
The objective of Kossam is to strengthen and structure the dairy sector in Northern Senegal. It operates through fifteen mini-farms that test and make the model more reliable.
– What exactly are these mini-farms? What is their impact on the region?
They are pools of dairy specialisation. In practical terms, farmers place the best milk-producing cows of their herds in the stables at any time of the year. Kossam provides them with the best production conditions in terms of feeding, watering, reproduction monitoring, advice.
These actions give coherence to the sector, enhance the sector and slow down transhumance. The sector is getting organised and becoming more attractive. Young people get involved, train in new professions, gain responsibilities. It also has an impact on families. Thanks to the income from dairy farming, they settle down, improve their living conditions, and send children to school. Around Kossam, an entire territorial dynamism is being established.
– With Kossam, Laiterie du Berger expands its scope of expertise. What balance and prospects do you draw from the Senegalese dairy sector?
Today, our local milk production level has reached industrial levels. With higher income prospects, the industry is now structured and our social entrepreneurship model continues to demonstrate its effectiveness. We have found outlets for our products in the Dakar region. When it was launched ten years ago, Laiterie du Berger had a turnover of € 30,000. Now it reaches € 10 million. We plan to reach 2,000 families by 2022 and deploy 100 mini-farms nationwide. Each progress represents a new challenge!
– Laiterie du Berger benefits from the support of the Grameen Crédit Agricole Foundation, Crédit Agricole Franche-Comté and Amundi. How important are your partners?
Laiterie du Berger and Kossam are companies based on the social impact entrepreneurship model, one for the production and distribution of dairy products, the other for the raising of livestock and milk production. Our model goes hand in hand with a culture of alliance and cooperation. All of our stakeholders commit themselves with mutual understanding: local communities, farmers, financial partners. We all work with the same objective: allow Fulani breeders in the sahelian zone, who represent more than half of the population, to make a living of their activity. This is essential to the stability of the region.
What are the next steps for Laiterie and Kossam?
Kossam received a USD.5 million grant from Mastercard Foundation. It will help speed up the dairy's activity and generate over 5,000 jobs in the dairy sector in Senegal. The grant will be used to increase milk collection to 4,000 tonnes and to capitalise on the restructuring of the collection system.
___________________________________________________________
Solidarity Bankers: Discover the video testimony of Haoly Basse, Solidarity Banker of Crédit Agricole CIB, who travelled to Senegal to support Kossam for the implementation of a digital application.