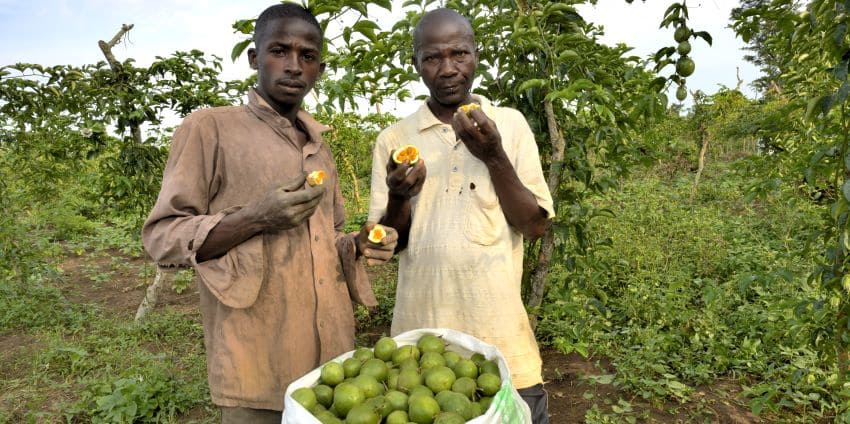 Since 2019, the Swedish International Development Cooperation Agency (Sida), the United Nations High Commissioner for Refugees (UNHCR) and the Grameen Crédit Agricole Foundation have joined forces to support refugee populations in Uganda.
The Foundation was selected by the Swedish International Development Cooperation Agency (Sida) and the United Nations High Commissioner for Refugees (UNHCR) for the design and coordination of an innovative programme in order to improve livelihoods, resilience and financial inclusion of refugees and host communities in Uganda.
Hanadi Tutunji, Financial Inclusion Officer at UNHCR reports on this joint four-year financial inclusion programme.
How is financial inclusion a sustainable solution for refugees in Uganda?
Uganda is home to about 1.5 million refugees and asylum-seekers, making it the largest refugee hosting country in Africa, and third in the world. It has one of the most progressive refugee policies in the world, and is the global lead in the implementation of the Comprehensive Refugee Response Framework (CRRF) and Global Compact on Refugees (GCR). Refugees in Uganda live in settlements, which are close to the host communities, and they have access to the same social services such as health, education, water and sanitation, as well as livelihoods. They also enjoy the freedom of movement, right to work, and have been included in the country's National development Plan III.
Uganda hosts 94 per cent of the refugees in 13 settlements located in South West and Northern part of the country. The remaining six per cent are located in urban areas around Kampala. Despite Uganda's progressive and inclusive policies, the poverty rate among the refugee population is more than twice that of the host communities. This has a negative impact on their co-existence, and is a protection risk for both communities, especially the women, girls and persons with special needs.
In 2020, the World Food Programme reduced the food ration provided to refugees by 30 per cent, due to a reduction in their resource envelope. The effect it had on the refugees was further exasperated by the onset of COVID-19 and the impact of the countrywide lockdown thereafter. As a result of the lockdown,  13  per cent of refugees (especially those in the urban areas), lost their livelihoods, which further increased food and income insecurity.
Durable solutions are therefore needed to address both the humanitarian and development challenges Uganda faces, especially given the large number of refugees in the country.
In this regard, financial inclusion is important to promote access to resources, increase economic activity, and increase wage and self-employment opportunities. Financial and non-financial services offered to refugees help them meet their needs in a sustainable manner. Therefore, it is important to engage with the private sector and support its efforts to develop and provide tailored financial services to refugees, including access to savings, loans, insurance and remittance services.
Can you explain the specificities of the programme?
The programme aims at enhancing access to credit for refugees and the host communities, so that they can develop income-generating activities. Ultimately, the objective of the programme is to improve the  self-reliance of approximately 100,000 households among these populations.
The programme, which draws on a mix of public and private funding, has three components: a lender guarantee fund, debt financing for three microfinance institutions (MFIs) and technical assistance for MFIs and refugees.
UNHCR shares socio-economic data, facilitates access to refugees, trains MFI staff on refugee needs and protection, and oversees refugee participation in financial and business training. The Grameen Crédit Agricole Foundation, with financial support from Sida, coordinates the technical assistance component of the programme, which includes providing refugees with non-financial services, such as business training and financial education. In addition, it covers  part of the initial set-up costs incurred by the MFIs, to expand their lending operations to refugees.
Thanks to the programme, the beneficiary MFIs have been able to open new branches in the districts of Moyo (Parlorinya settlement), Yumbe (Bidibidi settlement) and Isingiro (Nakivale settlement), where many refugees live. By the end of March 2021, 14,777 loans had been granted by the MFIs, of which, 6,423 (44 per cent) were granted to refugees. In addition, 19,294 people had received training. Since the programme targets both refugees and their host communities, it facilitates links between them thus, promoting their peaceful coexistence.
What are UNHCR's financial inclusion priorities around the world?
Refugees' financial needs evolve over time, depending on their displacement phase, ranging from survival cash at the time of arrival, to more comprehensive services such as savings, payments, and credit in a second stage.
Financial inclusion represents a bridge from humanitarian assistance to sustainable business development. UNHCR ensures that refugees, as well as vulnerable people in host communities, have access to affordable and appropriate financial services. It also ensures that,  responsible financial service providers deliver these services.
To strengthen financial inclusion, UNHCR will expand its partnerships and encourage partners to provide sustainable services to refugees, as well as  support them in their advocacy work, to improve the regulatory framework.