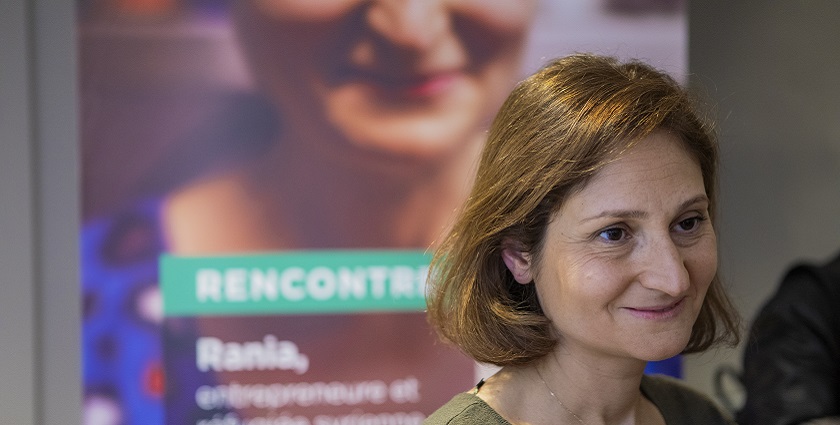 Launched in 2018 by the Grameen Credit Agricole Foundation, Crédit Agricole S.A. and Crédit Agricole Centre-Est, Solidarity Cents aims to finance entrepreneurship projects by mobilising Crédit Agricole employees who are invited to donate 50 cents when paying for their meals in collective restaurants. For the 2019 edition, thanks to the support of employees, € 8,657 will be donated to Entrepreneurs du Monde to finance the ICI programme (Incubation, Creation, Inclusion) which supports entrepreneurship projects for refugees, single parents and homeless people in Lyon.
The campiagn took place in parallel at the Crédit Agricole Campuses in Montrouge, Saint-Quentin and Lyon from 18 to 22 November. Crédit Agricole S.A., the Grameen Crédit Agricole Foundation and Crédit Agricole Centre-Est will embrace the generosity of their employees by contributing to the collection.
Last year, Entrepreneurs du Monde also received € 7,000 through the operation, which helped strengthen the ICI programme. All together, 20 collective training sessions were organised and 18 people supported to structure their entrepreneurship projects. Entrepreneurs du Monde's objective is to support 40 project applicants by 2020.
Back to the images oin the launching event
To launch the 2019 edition of the campaign, Crédit Agricole welcomed on November 4, on the Montrouge Campus, Rania, entrepreneur and Syrian refugee financially supported thanks to the 2018 campaign. After leaving Syria and thanks to the ICI Project (Incubation, Creation, Inclusion) of Entrepreneurs du Monde funded through Solidarity Cents, Rania launched her catering service to share the traditional dishes of her country.
Watch the video of the operation which presents Rania's journey and the testimonies of the staff who participated in the operation.
vidéo