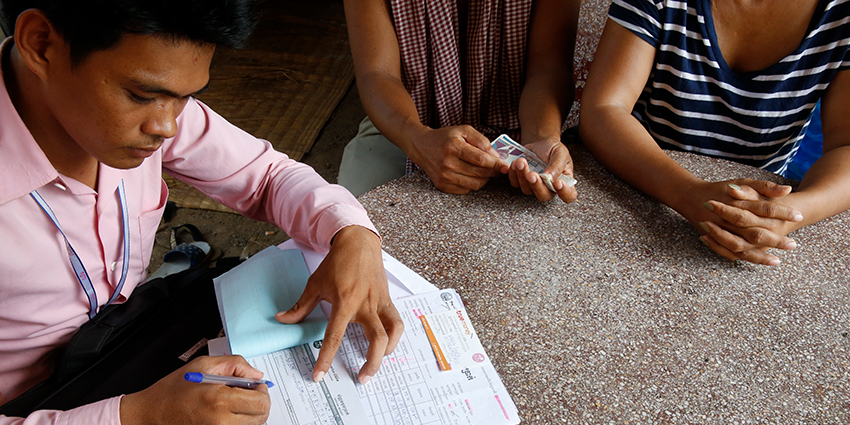 Chamroeun Microfinance Plc is a Cambodian institution that puts social mission at the very heart of its business model. It provides financial services to poor segments of the population which are excluded from the offer of other more commercial microfinance institutions.
THE ORGANISATION AND THE FOUNDATION
The Foundation has granted 8 loans to Chamroeun Microfinance Plc since 2010 for a total amount of €5,054,000. The institution also benefited from the Solidarity Bankers programme in 2018. An expert in International Human Resources from the Crédit Agricole group, went on a two-week field trip to support Chamroeun Microfinance Plc's teams in identifying and implementing an Human Resources strategy.
CONTEXT OF THE MISSION
Faced with transformation challenges, Chamroeun Microfinance Plc needed to adapt its business model, strategy and HR policies. In 2017, despite a restructuring, the institution was still facing HR issues, such as team turnover and the need to hone the skills of operational staff, as well as supervision issues in some branches. The objective of the mission was therefore to support the institution's HR function in adapting and improving its strategy, policies, procedures and management tools.
RESULTS
The Solidarity Banker assessed the existing HR tools and procedures, proposed a 2-year HR strategy and ways to promote leadership within the organisation. Thanks to this operational support, Chamroeun Microfinance Plc, which was in the process of completely transforming its business model and renewing its management team, has been able to implement an effective human resources policy. After the mission and thanks to the trusting relationship created with Chamroeun Microfinance Plc management, the Crédit Agricole expert was also able to provide punctual support, upon request, for the implementation of his recommendations.
This article was published in "Our technical assistance offer", accessible here