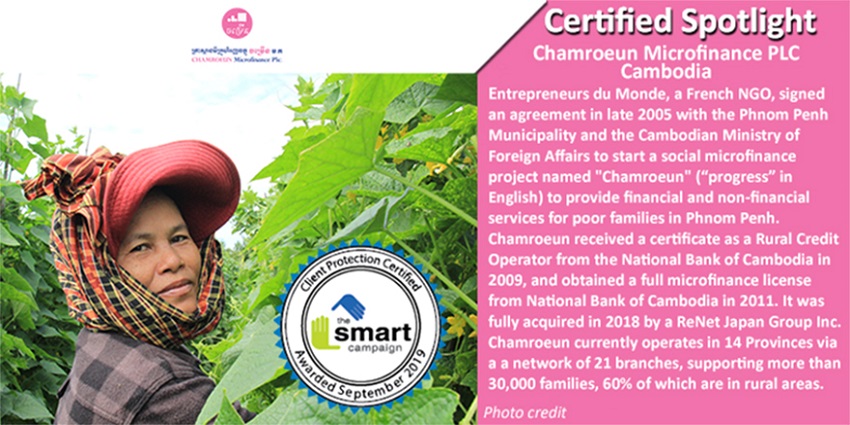 The Smart Campaign, a global initiative to incorporate strong client protection principles into the financial inclusion industry, has publicly recognised Chamroeun, partner of the Grameen Crédit Agricole Foundation since 2010, as Client Protection Certified for meeting strong standards of client care. The institution joins more than 115 others in over 40 countries that have been certified since the programme was launched in January 2013.
"We extend our heartfelt congratulations to Chamroeun," said Isabelle Barrès, Director of the Smart Campaign. "Their willingness to do the work it takes to prepare for and undergo the intensive process of evaluation is indicative of their deep commitment to their clients. They have shown that this bar is achievable in the area of client protection. Their example will catalyze a movement towards certification within the broader industry."
The Smart Campaign's Client Protection Certification programme publicly recognizes those institutions providing financial services to low-income households whose standards of care uphold the Smart Campaign's seven Client Protection Principles. These principles cover such important areas such as pricing, transparency, fair and respectful treatment and prevention of over-indebtedness. The certification programme contains a rigorous set of standards against which institutions are evaluated by independent, third-party raters that are licensed by the Smart Campaign. The raters are established, specialized rating agencies with extensive experience, having analyzed hundreds of institutions to date.
Chamroeun has long demonstrated a commitment to client protection. Prior to undergoing certification, the institution was evaluated by the Smart Campaign on its practices and contributed to the development of Campaign tools to help advance the sector.
Further information on Chamroeun, cliquez here.