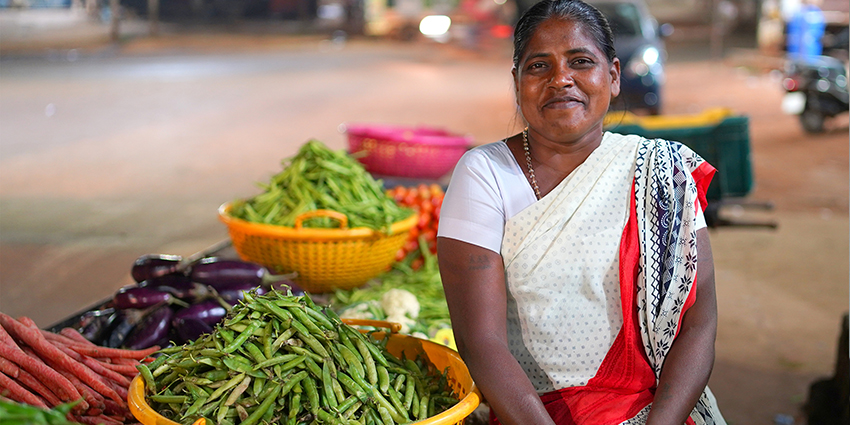 Grameen Crédit Agricole Foundation and Crédit Agricole CIB announce that they have arranged a 350 million INR (EUR 4.5 million) sustainability-linked term loan to Annapurna Finance, a leading Indian non-banking finance institution dedicated to the provision of microfinance loans to enhance financial inclusion of low income households. Annapurna Finance is the first microfinance institution in India to sign a Sustainability-Linked Loan.
Through this facility, Annapurna Finance will enhance its environmental and societal contribution beyond the social impact of microfinance, tackling major ESG issues and providing clients with bespoke eco-products to finance climate change mitigation as well as climate adaptation solutions and skill-based trainings to empower women.
Aligned with the Sustainability Linked Loan Principles, the transaction's terms include a sustainability margin adjustment mechanism dependent on whether annual targets are met for the following KPIs: the solar energy capacity installed by Micro, Small, and Medium Enterprise customers; the construction and upgrade of resilient housing in cyclone-prone areas; and the enrollment of women clients in entrepreneurship skill building programme.
Grameen Credit Agricole Foundation and Crédit Agricole CIB have been working since 2019 to promote financial inclusion through financing non-banking institutions in India. In this transaction, Grameen Credit Agricole Foundation acted as arranger and guarantee provider to Crédit Agricole CIB in India, which in turn provided financing to Annapurna Finance. In addition, the Crédit Agricole CIB Sustainable Banking team advised Annapurna Finance as Sustainability Coordinator, through the "Solidarity Bankers", a skills volunteering program launched by Grameen Credit Agricole Foundation and Crédit Agricole S.A. in favour of microfinance institutions and social impact enterprises supported by the Foundation.
Eric Campos, Grameen Credit Agricole Foundation Managing director, said: "We are happy to channel bank financing to the microfinance sector, while fostering innovation, encouraging our partner Annapurna in its effort to combine financial inclusion and enhanced social and environmental impact."
Nathalie Sarel, Head of Sustainable Banking for SMEs at Crédit Agricole CIB added: "This first-of-its-kind sustainability-linked loan for a microfinance institution is a strong message that we can support and incentivise the efforts of institutions of this type in tackling climate change, as well as addressing social challenges. We are very proud to have accompanied Annapurna, alongside with Grameen Crédit Agricole Foundation in such a landmark and impactful transaction."
Mr. Gobinda Chandra Pattanaik, MD and CEO of Annapurna Finance expressed: "The future of responsible lending is leveraging the sustainability practices, that call for more environmentally and socially relevant product and strategy decisions. Hopefully, this collaboration venture of Credit Agricole and Annapurna will help both the organizations to bring in positive outcomes in the direction of sustainability."
Mr. Dibyajyoti Pattanaik, Director of Annapurna Finance said: "We are happy that Credit Agricole is supporting our journey towards incorporating better environmental and social management system. Annapurna for last two decades has kept the sustainable development agenda as its core strategy, as our vision of creating a self -sustainable and economically empowered rural, tribal & sub-urban society was designed on the same theme. Our We-LEAD programme to develop women from rural pockets into entrepreneurs itself drives with the same ambition of holistic development of the society. Securing such a unique partnership with Credit Agricole in the journey will help us achieve the most in future."
For further information about our partners, click here.