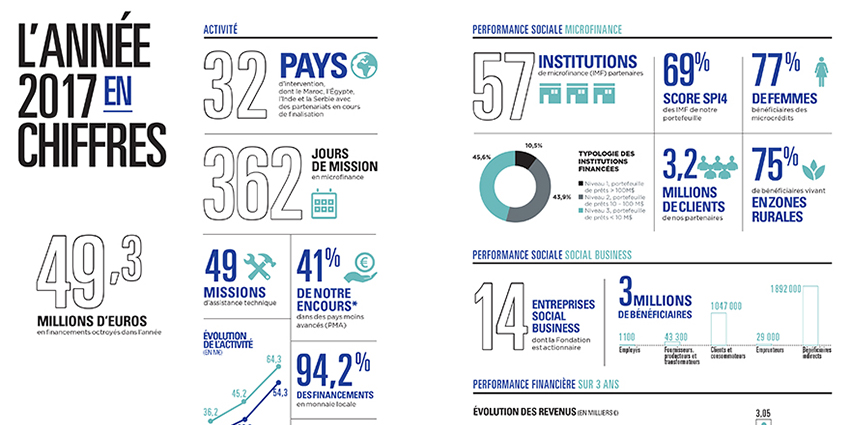 The Grameen Crédit Agricole Foundation registered 45% growth in its commitments in 2017, in line with its forecasts. This positive result was praised at the Board meeting of March 7th.
The Foundation has allocated nearly €200 million in financing since its creation in 2008. It intervenes in 70 microfinance institutions and social businesses in 28 countries. Women and rural populations represent 76% and 81% respectively of the more than 3 million customers of the institutions that the Foundation supports through financing and technical assistance. On the support front, the Foundation's teams oversaw 50 technical assistance missions for 16 partner institutions.
2017 was a year of growth with a net operating result that achieved a surplus too whilst preserving a risk profile without negative development. The Foundation thus showed that it was capable of combining social performance with economic balance. We refocused on our core activity this year whilst increasing our capacity to act. Thus, in 2017, 44 financing projects were submitted to the Investment Committee for an additional amount of nearly €50 million in loans.
The Foundation expanded its intervention zone with new partnerships in Montenegro, Kazakhstan and Myanmar. 86% of our countries of intervention are among the poorest in the world. 48% of the financing projects are concentrated in Sub-Saharan Africa and 23% in South and South-East Asia, each of which represented 35% of the Foundation's commitments at the end of the year.
Convened in Luxembourg on 6 and 7 March, the Foundation's Board members expressed their satisfaction and congratulated the Foundation's teams for these results which honour the institution. The Board meeting was also an opportunity to chart the operational options for the next medium-term plan 2019-2023 and to launch a project to create an investment fund aimed at improving the operational excellence and resilience of our partners.
Committed alongside the microfinance institutions, taking part in the boom of rural economies and beyond, and acting together for a more inclusive economy, the Grameen Crédit Agricole Foundation remains focused, humble, yet active and daring in the service of its founding mission to fight against poverty.