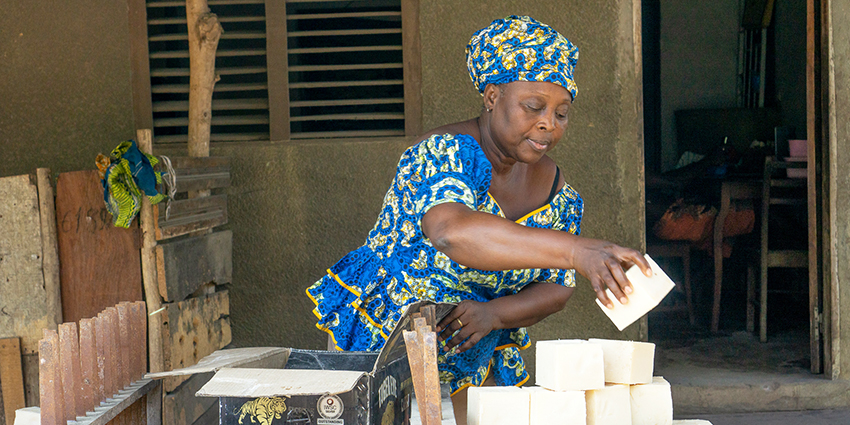 At the initiative of the Grameen Crédit Agricole Foundation and Crédit Agricole S.A, skills volunteering missions Solidarity Bankers are offered to employees of the Crédit Agricole Group on behalf of organisations supported by the Foundation. A new Solidarity Bankers mission is to be filled in favour of the  Association des Caisses de Financement à la Base (ACFB) in Benin. The microfinance institution was created in 1995 as a project of the local NGO GRAPAD.
ACFB aims at offering quality financial and non-financial services to the active, economically weak, and mainly female populations with a view to their promotion. ACFB offers its clients loan and savings services through group and individual methodologies.
Today, ACFB has a Human Resources Department, within the General Administration Service, composed of two agents: an HR Monitoring Officer, promoted in 2019 to prepare the retirement of the former Monitoring Officer, and an Assistant. The institution also has a human resources management manual, HR management tools and software to manage salaries. However, ACFB lacks a formalized staff evaluation system and a career management plan to harness the skills and potential of its staff, while identifying and meeting their expectations.
To discover the details of this mission click here.
How to apply
To apply send your CV as well as one or two paragraphs explaining your motivation and expertise to carolina.viguet@credit-agricole-sa.fr
___________________________________________________________
Created in 2008, under the joint impetus of the directors of Crédit Agricole S.A. and Professor Yunus, winner of the 2006 Nobel Peace Prize and founder of the Grameen Bank, the Grameen Crédit Agricole Foundation is a cross-business actor that contributes to the fight against poverty through financial inclusion and entrepreneurship with a social impact. As an investor, lender, technical assistance coordinator and fund advisor, the Foundation supports microfinance institutions and social enterprises in nearly 40 countries.