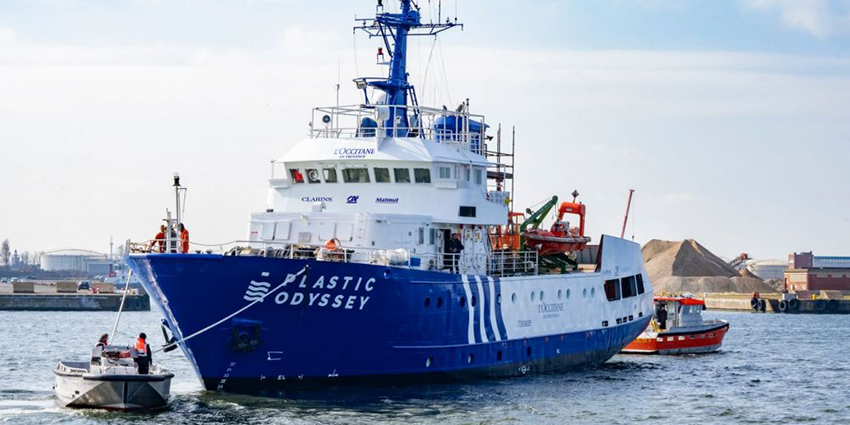 Plastic Odyssey collects and develops plastic recycling technologies and solutions to distribute them in open-source to as many people as possible. They are embarked on a laboratory ship, which will leave in 2022 for a world tour along the most polluted sides of the planet. At each stop on its expedition around the world, Plastic Odyssey's floating recycling workshop will welcome entrepreneurs from around the world to help them test, prototype and develop their plastic recycling solutions.
Plastic Odyssey and its partner Crédit Agricole are organizing "PO Lab: meeting with plastic recycling entrepreneurs" at Village By CA in Paris on February 16 from 3:30 p.m. to 6 p.m.
The programme

1 – Pitch of the winning PO Lab projects
A look back at the 1st edition of the PO Lab, with the pitches of the 5 winners:
Conchyl'Innov, Charlotte Rhone
Plasti-Cycle, Daovone Sribouavong
Recycled plastic skateboard, Jason Knight
Purple Alternative Surface, Pierre Quinonero & Sebastien Molas
Mon empreinte plastique, Alban Desbarax & David Le Gall
`2 – Round Table: Plastic pollution & recycling solutions in Africa and Asia: context, challenges and perspectives

With inspiring speakers:
Matthieu Witvoet: 27-year-old eco-adventurer, member of Circul'R, who cycled around the world in 2017 to find out about good plastic recycling practices.
Pascale Martel Naquin:Former Director of the CEFREPADE association, who has supported skills building and waste recovery actions for more than 20 years, especially in Haiti and sub-Saharan Africa.
Said Benhamida: CEO and co-founder of Mika, a startup that collects and recycles plastic waste along the Moroccan coast.
Jean-Baptiste Grassin: Managing Director of Nomad Plastic and Research and Strategy Manager at Plastic Odyssey.
This meeting can be followed on Webex.
——————————————————————–
The Village by CA is a network of start-up accelerators supported by Crédit Agricole. It relies on innovation ecosystems to support the transformation of businesses in the regions. Find out more: //www.levillagebyca.com/