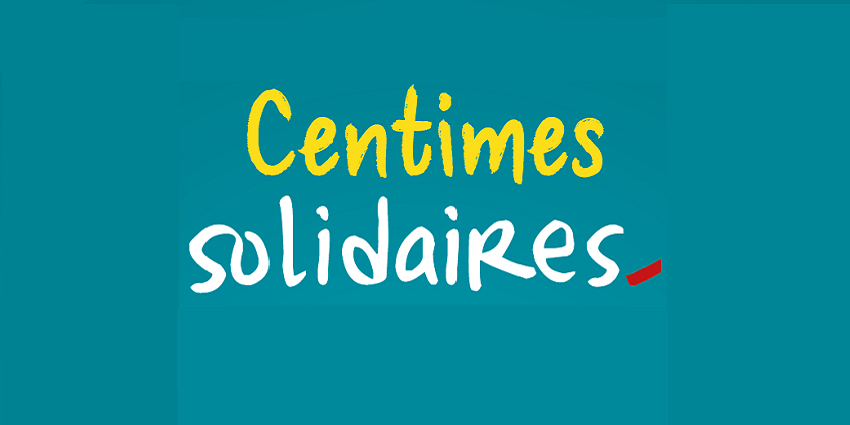 Promoting commitment from the Group's employees
Many employees of the Crédit Agricole group are volunteering for solidarity projects. To provide guidance and support for this effort, the Group has launched "CA Solidaires," a mechanism that enhances, supports and promotes the commitment of employees for projects that have a positive social impact. The "Centimes Solidaires" operation will be launched against this background at the initiative of the Grameen Crédit Agricole Foundation and Crédit Agricole SA to finance entrepreneurship projects.
During one week per month, in October and November, the staff of the Crédit Agricole Campuses in Montrouge and Saint-Quentin will be invited to make a 50 cents donation when paying for their meals in the canteens of those campuses. Crédit Agricole SA, the Caisse Régionale Centre-Est and the Grameen Crédit Agricole Foundation will contribute to the final amount collected. The total amount collected will go towards supporting "Programme France," which has been set up by the French NGO Entrepreneurs du Monde.
Support an inclusion programme through entrepreneurship
Implemented at the beginning of 2018 in the Lyon area, with the support of the Solidarités Foundation by Crédit Agricole Center-Est and Crédit Agricole Solidarité et Développement, Entrepreneurs du Monde's "Programme France" provides a mechanism for restoring hope to people in a situation of financial vulnerability and social exclusion in France. Through collective training programmes and personalized advice and support for business creation, the programme is intended to support refugees, homeless people and single parents to create and develop their entrepreneurship projects.
The support offered is a three-step process: listening and orientation to assess the feasibility and relevance of the project, advice and support before and monitoring after the business is created. Various companies from grocery shops, to computer repair, fashion design, etc. will be supported within the framework of the programme, which has already provided guidance and support to 13 project holders to date. The aim for the years to come is to reach a larger number of beneficiaries, i.e. a total of 40 project holders by the end of 2019 and 50 in 2020.
The "Centimes Solidaires" operation is launched on the 10th anniversary of the Grameen Crédit Agricole Foundation. The funds raised will be donated during an event bringing together the Group's employees on November 19 in Montrouge.