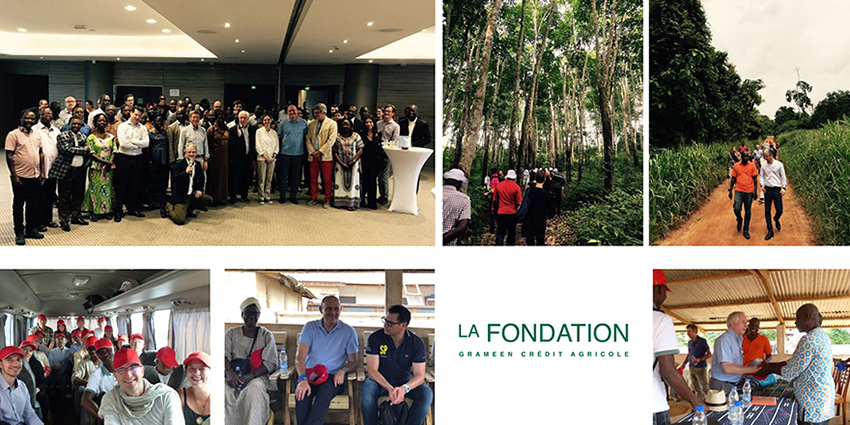 For the very first time the Study tour, a yearly-planed event aimed at making Board members meet the Foundation's partners, has been organised simultaneously with the Annual Forum of the African Facility, a technical assistance programme created in 2013 in partnership with the Agence Française de Développement (AFD). From the 8th to the 12th of July, partners and Board members were able to discuss, to strength their knowledge on the specificities of the Foundation's activities and to explore new lines of action for the coming years. Panel discussions, training days and field visits: plenty of key moments marked this strategic week for the Foundation.
The first day of the week started in Abidjan with the opening ceremony of the 4th Forum of the African Facility. After a first phase that benefited 16 rural microfinance institutions in Sub-Saharan Africa, the second phase of this program will take place from 2017 to 2020 and is expected to provide over 20 institutions with funding and technical assistance. The 4th Forum was the occasion to present the main outcomes and perspectives of the programme.I It was marked by inspiring exchanges between Board members and 16 microfinance institutions supported by the African Facility.
Throughout the following days, the African Facility's partners participated in trainings focused on digital and agricultural supply chain finance. Besides, Board members took part in two field visits. The first visit allowed them to discover the functioning of a cocoa cooperative located in Tiassalé that receives a financial support from Advans, a partner of the Foundation. The day after, a second field visit to Akpesekro was the opportunity for Board members to find out more about the ZECI project, an initiative aimed at facilitating access to electricity in rural areas through the commercialization of off-grid solar kits. The Foundation participates in the financing of the operating company, ZECI[1], in cooperation with CA-CIB's securitization team. It will also ensure the follow-up of the project's social and environmental performance.
Before the closing cocktail, a Foundation's Board meeting was held . The meeting was focused on the 2019-2023 Strategic Plan whichbenefited from relevant inputs raised by the African Facility partners. The Strategic Plan will be officially presented in November during the "Sustainable Finance Week", organized in partnership with Credit Agricole to celebrate the Foundation's 10th anniversary. A photo exhibition, panel discussions and a special ceremony are part of the program and will reaffirm the Foundation and Crédit Agricole Group's commitment towards a more inclusive and responsible finance.
[1] Enterprise co-founded by EDF and Off-Grid Electric (OGE).