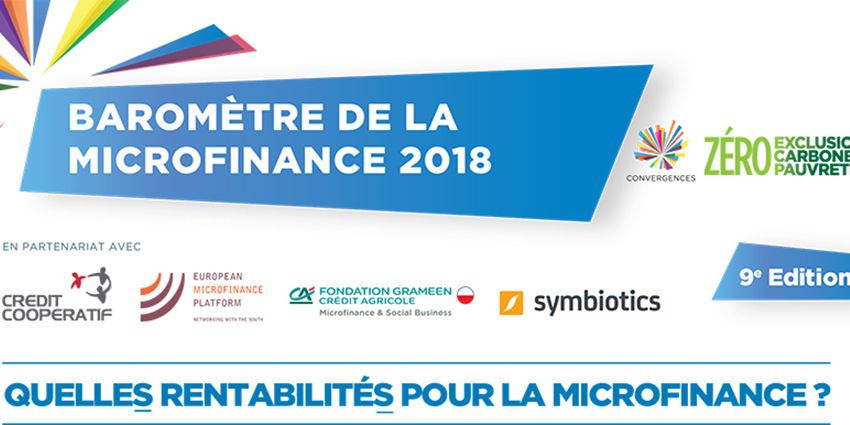 A partnership to develop microfinance
The Grameen Crédit Agricole Foundation is a historic partner of Convergences, an advocacy and mobilization platform set up to promote the Sustainable Development Goals (SDGs). A member of the Steering Committee of the Microfinance Barometer since it was created, the Foundation has reaffirmed its commitment alongside Convergences by becoming a financial partner of this reference publication for the sector. Dedicated to the theme "What profitability for microfinance?" the Barometer 2018 explores the topic of microfinance from its many facets.
This 9th edition was unveiled at the 11th Convergences World Forum held in Paris last September 3rd, with the participation of Philippe Guichandut, inclusive finance development manager at the Grameen Crédit Agricole Foundation, and other experts and committed players from the sector.
Microfinance Barometer 2018
This year, the Barometer announced annual growth of 15.6% of the credit portfolio of microfinance institutions and 5.6% in the total number of borrowers. The microfinance sector makes a significant contribution to financial inclusion in rural areas: two thirds of the borrowers from institutions in Africa and Asia live in rural areas. Women continue to be the preferred target of the sector worldwide, with an 82% coverage in 2017.
The 2018 edition of Barometer features two articles from the Grameen Crédit Agricole Foundation also. During a joint interview on the profitability of the sector, Eric Campos, General Manager of the Foundation, presented the positive results of the Foundation which finances and supports more than 60 MFIs with a high social performance. "We operate in more than 30 countries in which our partners serve more than 3.5 million beneficiaries. It is altogether possible to be balanced and sustainable on the financial front while having an impact on the social front", Mr Campos stated.
In an article co-authored with Sébastien Duquet of Symbiotics, Philippe Guichandut highlighted the new challenges of financial inclusion: "Being more effective means that institutions must be able to adapt to the new challenges of the digital age to deal with keener competition and the emergence of new players, while adapting to the diversified needs of their clients." To meet these challenges, microfinance institutions will need new investments and reinforced technical support – two levers which will remain at the heart of the action of the Grameen Crédit Agricole Foundation.
The results of the Microfinance Barometer 2018 reaffirm the dynamism of the sector and its role in achieving the Sustainable Development Goals. The Grameen Crédit Agricole Foundation is proud to support the Barometer so as to develop the actions of microfinance players and promote sustainable financing and a better shared economy.
Download the Barometerhere