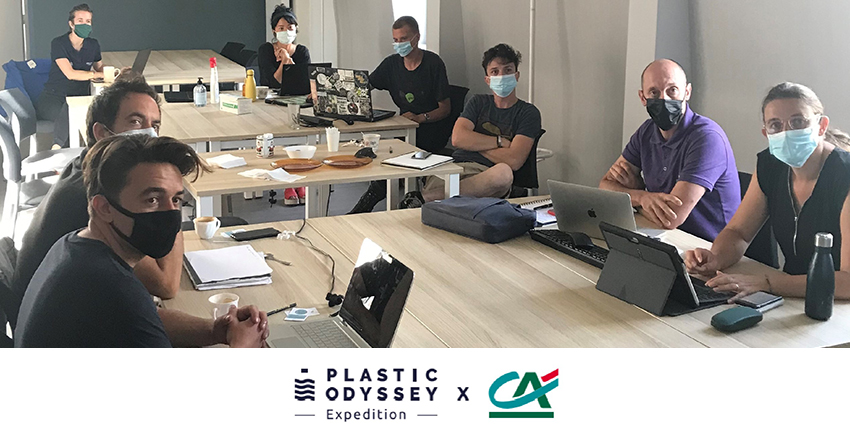 Every minute, 19 tons of plastic are dumped into the ocean, less than 10% of the plastic produced is recycled and 80% of marine pollution comes from developing countries' coastal cities.
Regarding this plastic crisis, Plastic Odyssey teams decided to take action by launching an expedition all around the world on their ambassador ship. Their goal? Build a global network of local plastic recycling initiatives. On board, sorting, recycling and pyrolysis technologies are made available to entrepreneurs to help them recover waste.
At the same time, Plastic Odyssey teams launched their "Plastic Odyssey Lab" (PO LAB) acceleration programme in order to provide recycling entrepreneurs with skilled support. Following a first call for proposals in France, six laureates joined their ambassador ship in July 2021.
On the agenda:
Technical support from Plastic Odyssey engineers. It will allow laureates to test their manufacturing processes using on-board recycling machines
Entrepreneurial support provided by the Crédit Agricole Group through the Grameen Crédit Agricole Foundation and the Crédit Agricole regional Banks.
Benefiting from its expertise in the promotion of impact entrepreneurship, the Foundation has specifically designed training modules for PO LAB laureates, all of them start-ups:
« We have first analysed the projects and needs of the laureates, most of them well in advance of their entrepreneurial adventure. We also helped them draw-up an impact-oriented business plan or, in the case of the most advanced, to specify possible technical and financial partnerships in the impact sector. We had to analyse the needs that the PO LAB could meet during their incubation. Once their needs identified, we looked for the best experts of the Crédit Agricole regional Banks taking into account where the laureates came from. During the PO LAB, laureates benefited from individual sessions with each expert of the regional Banks and Village by CA on topics such as marketing, HR and local financing. In addition, group sessions were held with support from the Foundation on the financial structure and strategy of an impact company and the specificity of fundraising for impact start-ups. » – Céline Hyon-Naudin, Senior Investment Manager, Grameen Crédit Agricole Foundation.
Once the PO LAB is over, the Foundation will pursue its entrepreneurial support with the laureates by organising a new training session in Marseille this autumn:
« Individual sessions with the Foundation are planned after the PO LAB on specific topics in order to give some time to the laureates to integrate their technical test into their entrepreneurial project. We are currently working on these modules and the following topics could, for instance, be addressed: which business model to choose (NGO, ESUS, SAS)? What product strategy to adopt to best meet identified social and environmental needs? How to organise logistical flows (waste supply, stock management, distribution of finished products)? » – Céline Hyon-Naudin.
The ship is currently moored in Dunkirk and Plastic Odyssey teams plan to launch their Mediterranean expedition in late fall 2021. Other sessions of the PO LAB are planned in the countries of the Mediterranean basin. The network of the Crédit Agricole Group is also mobilised in Egypt and Morocco to support this acceleration programme. A good example of the collective commitment of the Crédit Agricole Group in line with its Societal Project.
Further information about the support of Crédit Agricole to Plastic Odyssey.