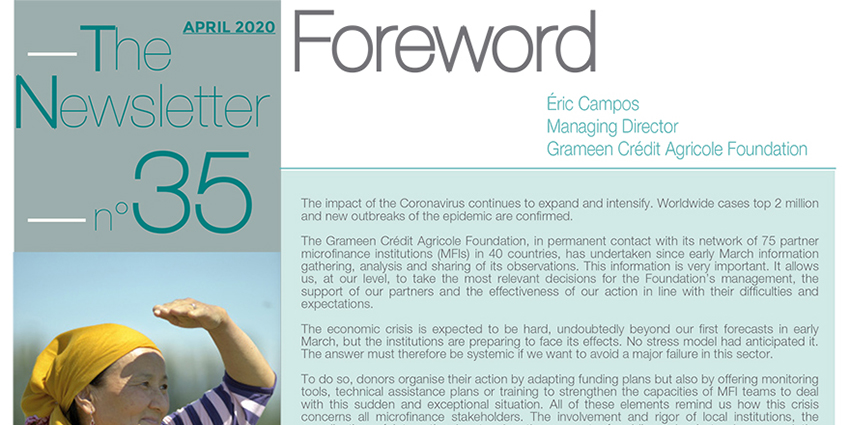 The Grameen Credit Agricole Foundation publishes its Newsletter #35, marked by the crisis linked to the Coronavirus that continues to expand and intensify. The Foundation, in permanent contact with its network of 75 partner microfinance institutions (MFIs) in 40 countries, has undertaken since early March information gathering, analysis and sharing of its observations. This information is very important. It allows us, at our level, to take the most relevant decisions for the Foundation's management, the support of our partners and the effectiveness of our action in line with their difficulties and expectations.
The economic crisis is expected to be hard, undoubtedly beyond our first forecasts in early March, but the institutions are preparing to face its effects. No stress model had anticipated it. The answer must therefore be systemic if we want to avoid a major failure in this sector.
To do so, donors organise their action by adapting funding plans but also by offering monitoring tools, technical assistance plans or training to strengthen the capacities of MFI teams to deal with this sudden and exceptional situation. All of these elements remind us how this crisis concerns all microfinance stakeholders. The involvement and rigor of local institutions, the coordination of international networks, the support of public and private donors and the confidence of investors will be the key values of our collective capacity to overcome the challenge presented by this health tsunami.