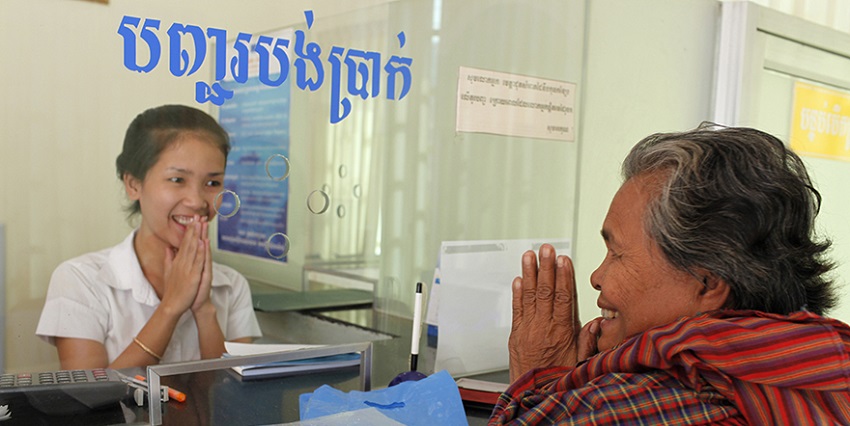 The year 2018 marked the 10th anniversary of the Grameen Crédit Agricole Foundation. Created by the Crédit Agricole and Professor Yunus, Nobel Peace Prize, the Foundation aims at contributing to the fight against poverty through the promotion of social entrepreneurship and financial inclusion. Since its inception, it has granted more than €200 million in financings and has supported more than 100 partners (microfinance institutions who grant microcredits to populations excluded from the traditional banking system and social enterprises serving low-income populations) in 38 countries.
As of December 2018, the Foundation recorded €81 million in commitments, including €75.7 million in funding to microfinance institutions and €4.5 million invested in social business companies. Sub-Saharan Africa concentrates 37% of the commitments. At the heart of its objectives, the Foundation promotes female entrepreneurship and rural development: 75% of the microcredit beneficiaries are women and 79% live in rural areas.
Strong partnerships with the Crédit Agricole Group
Several projects were launched in 2018 in partnership with Crédit Agricole entities and Regional Banks. In partnership with CA Indosuez Wealth (Asset Management) and CACEIS Bank, Luxembourg Branch, the Grameen Crédit Agricole Foundation has created the Inclusive Finance in Rural areas Fund (FIR), a social impact investment vehicle allowing the entities and Regional Banks of Crédit Agricole to invest in the microfinance sector. The FIR, for which the Foundation acts as exclusive advisor, grants loans to microfinance institutions in rural areas. The two first fund-raising drives in September and December 2018, confirmed the participation of 15 regional banks, Amundi and Crédit Agricole Insurances for an amount close to €8 million.
In partnership with Crédit Agricole S.A. and the Group entities, the Foundation launched the ''Solidarity Banker'' programme, a new type of volunteering missions proposed to the employees of the Crédit Agricole Group on behalf of microfinance institutions and social business companies that are partners of the Foundation. In 2018, three missions took place in Burkina Faso, Senegal and Cambodia. Three other missions are to be filled in Kazakhstan, Haiti and Morocco during the first semester of 2019.
2018 was also the preparation year for the 2019-2023 Strategic plan. Reinforcing the offer to microfinance institutions, enhancing the development of rural economies and developing partnerships with the Crédit Agricole Group will be at the heart of the Foundation's actions in the coming years.