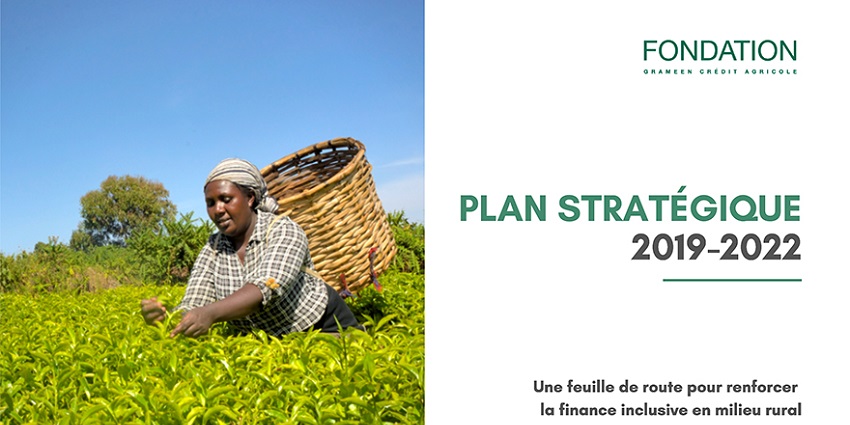 The publication of the Strategic plan 2019-2022 anchors the Foundation's positioning around three priority areas: reinforce our expertise and offer in favour of the microfinance sector, strengthen resilience in rural economies and promote social impact in the financial sector.
Created in 2008 by the joint initiative of the directors of Crédit Agricole S.A. and the 2006 Nobel Peace Prize winner and founder of the Grameen Trust, Professor Muhammad Yunus, the Grameen Crédit Agricole Foundation is committed to promoting microfinance and socially responsible entrepreneurship. With more than €200 million in financing granted in loans and investments, a presence in more than 40 countries and a network of more than 100 partners supported since its inception, the Foundation represents for the Crédit Agricole Group a unique specialist centre in the field of inclusive finance in emerging countries.
Over the last ten years, the Foundation has established a solid experience in financing microfinance institutions and promoting rural economic development. It has developed several projects with the Crédit Agricole Group's entities and Regional Banks: with cooperation schemes with the Group's entities abroad, a skills volunteering programme and a social impact investment fund, the Foundation has been able to strengthen its action and increase its impact.
In order to address the challenges ahead and make a positive contribution, the Strategic Plan 2019-2022 has been developed over the course of 2018 by the Foundation's team with guidance from the Board and consultation of partners and external stakeholders. The three pillars proposed in the Strategic plan (accompany MFIs, strengthen the resilience of rural economies and promote a social performance perspective in the financial sector) build on the Foundation's strengths and focus on strategic axes that reinforce the Foundation's positioning, permit to scale its impact and help balance the economic model.
To download the strategic plan 2019-2022, please click here.