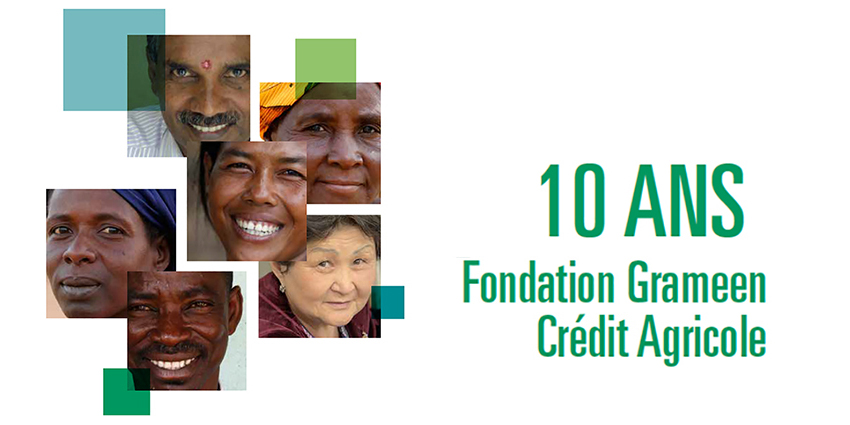 The Foundation, 10 years of action alongside Crédit Agricole Group
Created 10 years ago under the joint leadership of Crédit Agricole's directors and the 2006 Nobel Peace Prize laureate Muhammad Yunus, the Grameen Crédit Agricole Foundation is a multi-business operator that aims at promoting inclusive finance. As an investor, lender, technical assistance coordinator and fund advisor, the Foundation supports over 70 microfinance institutions and social business companies in 35 countries with over € 77 million in commitments.
Since the very beginning, Crédit Agricole Group has supported the Foundation's action in the microfinance and social business sectors. Ten years later, the links are strengthening and partnerships with the Regional Banks and Group entities are consolidating. To mark its 10 years of collective action, Crédit Agricole SA and the Grameen Crédit Agricole Foundation are organising in November "The Grameen Crédit Agricole Foundation Week" with a series of events open to Crédit Agricole Group employees.
An anniversary celebrated with the Group's employees
The Foundation Week will begin with the meeting "The Foundation's actions in favour of a socially useful entrepreneurship", organised on 19 November in the Green Auditorium of the Crédit Agricole campus in Montrouge. This meeting will bring together social entrepreneurs and entrepreneurs supported by the Foundation to discuss the main issues of the sector. It will also be an opportunity to present to the NGO Entrepreneurs du Monde a cheque for the amount raised during the "Centimes Solidaires" campaign. The amounts collected will be used to support entrepreneurship projects for refugees, single parents and homeless people.
On November 22, the meeting will take place in the Red Auditorium in Montrouge "Investing in Africa: myth or reality". This event will focus on opportunities and challenges related to investment operations in Africa and address the issue of the impact of entrepreneurship and financial inclusion on the African continent. On that occasion, investors and experts of investments in Africa will be present and will share their views on the topic of development and financial inclusion in African countries.