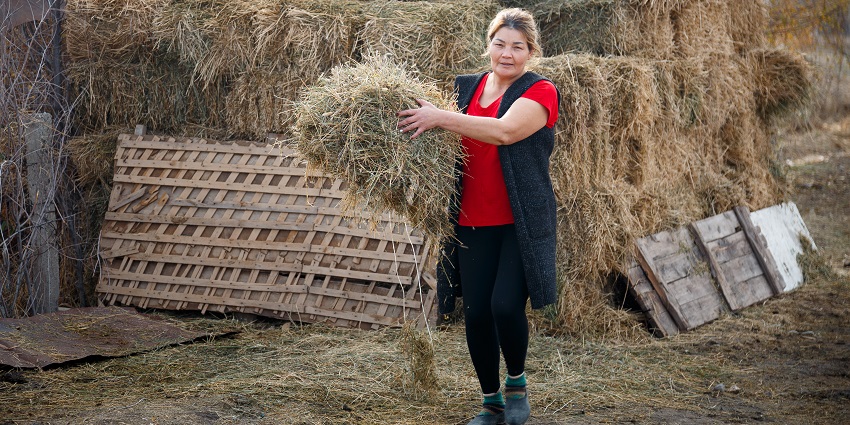 Launched by the Grameen Crédit Agricole Foundation and Crédit Agricole S.A. in 2018, Solidarity Bankers is a skills-based volunteering programme open to all Crédit Agricole Group employees in favour of microfinance institutions and social impact enterprises supported by the Foundation. Discover the interview of Mark Diakhaté, Account Manager in the Structured Finance Distribution team at Crédit Agricole CIB, who left for Kyrgyzstan in 2021 to support Salym.
The discovery of the programme and preparation
I have always had a keen interest in the fight against poverty. Indeed, I had participated in associative projects based on microcredit in Vietnam in 2008 and in Senegal in 2016, and I had followed a microfinance course during my university exchange in Manila in 2011, but I haven't had the opportunity to work in a real financial institution offering this type of product. So, applying to the Solidarity Bankers programme and in particular to the mission with Salym in Kyrgyzstan was an obvious choice for me.
Salym is a microfinance institution that provides financial services to low-income populations in Kyrgyzstan and my mission consisted in launching the environmental and social risk management (E&S) approach in the lending process.
To frame the mission, I was able to draw on my skills in internal control and risk management – having been an internal auditor and then a credit analyst – I also benefited from a training course on Salym and Kyrgyzstan provided by the Grameen Crédit Agricole Foundation. In mid-July, we started preparing the mission with Salym so that I could get to know their organisation and procedures. In addition, I looked for various resources on microcredit and took some private lessons in Russian – which was my third language during my studies – in order to be able to have simple conversations on the spot without an interpreter.
The mission in Kyrgyzstan
I visited Salym's premises in Bishkek for two weeks in September 2021. I arrived in Bishkek on the first Sunday of September and on Monday morning, I presented the mission during a kick-off meeting with the Management Committee. During the first week I met with the main managers and also with some borrowers, in order to get acquainted with the conditions of Salym's activity and to map the main E&S risks inherent to the lending activities.
During the second week, I discussed with the management a first version of the risk mapping, and then possible evolutions of the credit process in order to integrate E&S risk management. At the end of the second week, I conducted a training session on E&S risk management with the Salym Management Committee and presented the roadmap for the deployment of the E&S risk management system. The pace during the mission was fast. Thus, I was able to finalise the initially planned deliverables (E&S risk matrix, proposal for a new credit process, training, roadmap) during my stay on site.
The return home
Back in Paris, at the request of Salym's General Manager, I proposed a new and more comprehensive version of the Kyrgyz microfinance institution's E&S policy. Mid-October, we had a final meeting by videoconference to discuss my proposal, with a view to deploying the E&S risk management system in 2022.
I was delighted to be able to put my skills at the service of a company with an impact, in an unknown cultural environment (Central Asia remains a landlocked area with few tourists) and particularly exotic. I came back with the image of a dynamic country, rich in entrepreneurial opportunities.
I sincerely thank Carolina Viguet, Maxime Borgogno, Gabrielle Ferhat of the Foundation but also my hierarchy at RPC (Natacha Gallou, Hubert Frédéric, Michael Beucher) and the Human Resources of CACIB (Virginie Halipré, Nawel Frioui), who allowed me to participate in this mission as a Solidarity Banker.