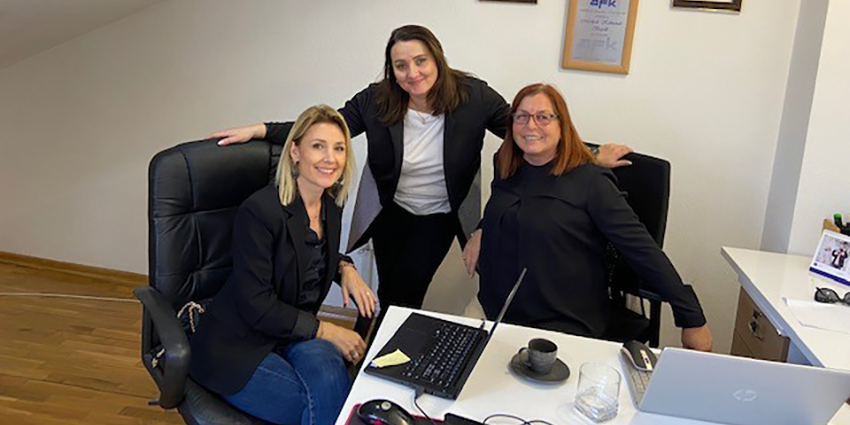 Launched by the Grameen Crédit Agricole Foundation and Crédit Agricole SA in June 2018, Solidarity Bankers is a skills volunteering programme open to all Crédit Agricole group employees for the benefit of  microfinance institutions or impact enterprises supported by the Grameen Crédit Agricole Foundation. Discover the testimony of Stéphanie Thibesard, Solidarity Banker of CACEIS Bank, Luxembourg Branch who carried out a risk management mission in Kosovo, in favour of the microfinance institution AFK.
What prompted you to apply for a Solidarity Banker mission?
I was familiar with the Grameen Crédit Agricole Foundation but not with the Solidarity Bankers programme that it offers to employees of the Crédit Agricole group. I discovered it during the broadcast of the podcast of a solidarity banker, Andreas Brunner, who shared his own experience. I admit that I completely recognised myself in what he was describing. I therefore consulted the "catalogue" of the Foundation to see the various missions offered. The mission at AFK in Kosovo matched my experience at CACEIS Bank Luxembourg Branch. So it seemed obvious to me that I had to apply, for several reasons: it allowed me to discover a business sector I was not familiar with (microfinance), to share my knowledge, experiences and skills (support and contribution to the improvement of a system) , it offered me a unique human experience (acting for others but also with others), it represented a new personal challenge and it was a unique opportunity to get out of my comfort zone!
To what extent is this mission relevant and enriching for your work within CACEIS?
As part of this technical assistance mission on behalf of AFK, we worked on setting up a mapping of operational risks, which until then had not existed within the MFI. This offered me the opportunity to share my knowledge on operational risks and more particularly on the mapping of these risks, to then work on a template adapted to the activities of the institution, both simple and functional, but above all effective (which can be enriched during subsequent reviews and according to AFK's needs). This exercise allowed me to refocus on the essentials of a mapping, namely to identify the major risks linked to an activity in order to be able to remedy them through action plans. I realised that by sometimes wanting to enrich or expand it too much (both in terms of indicators and granularity), the cartography sometimes tends to lose in terms of readability.
What does this opportunity represent for you from a personal point of view?
Above all, this opportunity represents an incredible human experience! I met in Kosovo and in particular in the AFK teams, very welcoming people, available but also transparent in their communication (important for the smooth running of the mission). The discussions were really constructive and very enriching. I also discovered a culture: the recent history of this country and its reconstruction, a way of life and customs, a sense of hospitality, a geographical and economic environment… During this immersion I also observed a real faculty of resilience among the Kosovars. I think that we necessarily come back different from this kind of mission.
Would you be interested in new technical assistance assignments on behalf of the Grameen Credit Agricole Foundation?
Without a doubt ! If a new mission of this type is to be filled, I would certainly apply! But I still think that such an experience should be experienced by as many people as possible. I can therefore only encourage the group's employees to embark on a Solidarity Bankers mission.
__________________________________
I warmly thank the Management of CACEIS Bank, Luxembourg Branch (Philippe Bourgues, Country Managing Director and Dominique Lapierre, Deputy Managing Director) as well as Human Resources (Anne-Catherine Loiseau and Pauline Duburquoy) for their support for this project. Thanks also to Séverine Pierret (ROCP Management) for her availability and sound advice, particularly during the mission preparation phase. And of course a very special thank you to the AFK teams (represented by Vahdet Anadolli, CEO and Xhevdet Spahija, COO) for their warm welcome as well as for the excellent conditions for carrying out this mission.