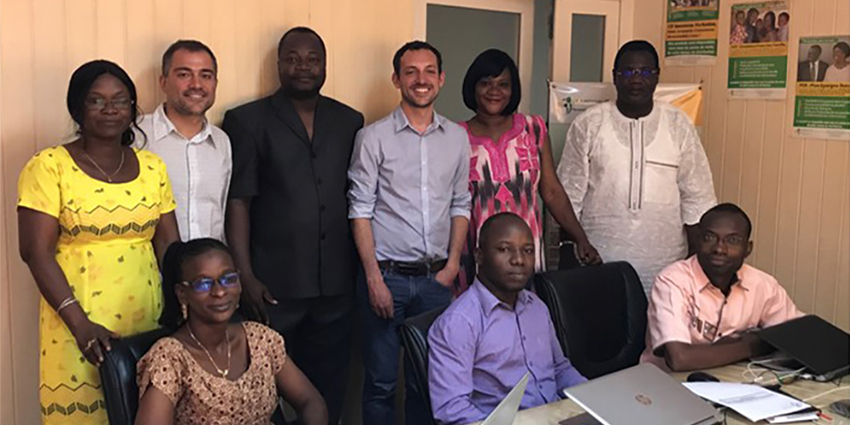 Crédit Agricole Assurances is alongside the Grameen Crédit Agricole Foundation in Burkina Faso in a due diligence for CIF-VIE, one of the country's main insurance companies that is an interest of the Foundation. This mission reflects the dual ambition of the Foundation: to reinforce its presence in the field of micro-insurance and to strengthen its relations with the Crédit Agricole Group.
CIF-VIE: a high-potential company
CIF-VIE initiated its activity in 2013 in Burkina Faso, supported by the RCPB, the main microfinance cooperative network in the country, and by ADA (a Luxembourg NGO). It aims at improving the protection of policyholders and beneficiaries by proposing a complete range of life and death insurances, as well as capitalisation products in Burkina.
Nowadays, the company represents 6% of the market. Since its creation, CIF-VIE has produced net positive results and its growth has now reached a new level with a strategic, operational and financial transformation. Its action plan is to open its capital to new shareholders in order to conform to the new requirements formulated by the CIMA (the Inter-African Insurance Market Conference); to restructure its organisation for better efficiency and risk management; and to develop its products and expand its distribution network. Its goal is to reach the top five insurance companies in Burkina Faso by 2020.
The Foundation and Crédit Agricole Assurances stand together to support microfinance
The Grameen Crédit Agricole Foundation supports 70 microfinance institutions and social businesses in over 30 countries. Acting as an investor, a financer and a technical assistance coordinator, the Foundation reinforces its contribution to the financial transition by supporting the development of micro-insurance in Africa.
Acknowledging the high potential of CIF-VIE, the Foundation conducted a due diligence, along with Crédit Agricole Assurances, to further its understanding of CIF-VIE's structure and to assess the possibilities to invest. Pierre Casal Ribeiro, Micro-insurance expert at the Foundation conducted the mission, accompanied by Eduardo Cardoso de Miranda, Loan insurance expert at Crédit Agricole Assurances, supported by El-Hadj Diop, Investment Officer, and Céline Hyon-Naudin, Social business Officer at the Foundation.
In the framework of its corporate social responsibility, Crédit Agricole Assurances, the first insurance Group in France and the first bank insurer in Europe, has been closely collaborating with the Foundation to promote its employees' skills and convictions for the common good.
The driving force of this collaboration is the will to invest in a better shared economy.