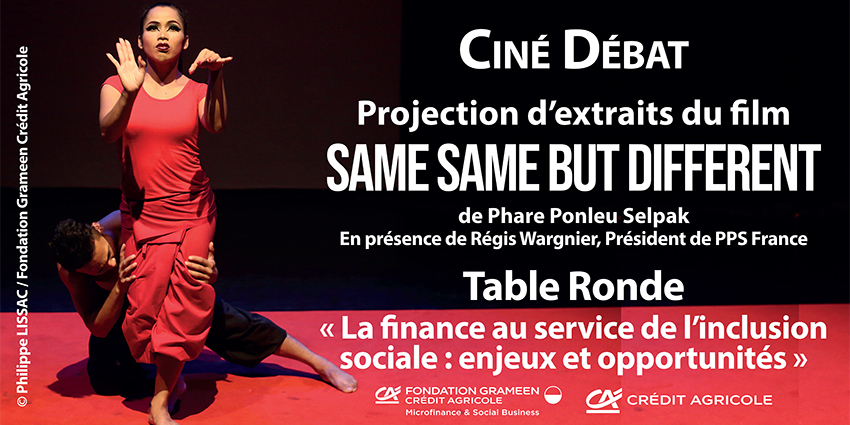 On the occasion of the release of the film "Same Same but different", directed by Tommy Pascal and shot in Cambodia with Phare Performing Social Enterprise (PPSE), a social enterprise supported by the Grameen Crédit Agricole Foundation and that employs young artists from underprivileged backgrounds, Crédit Agricole SA and the Foundation organised a round table at the Grand Rex on "Finance at the service of inclusion: challenges and opportunities".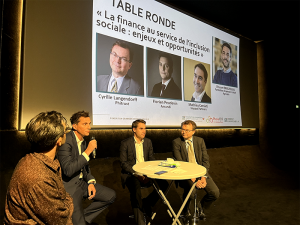 Moderated by Vincent Brousseau, Director of impact financing at the Grameen Crédit Agricole Foundation, the round table composed of Cyrille Langendorff (Phitrust), Florian Peudevin (Amundi) and Mathieu Cornieti (Impact Partners) generated a very interesting and informative discussion. The speakers thus presented the impact investing sector in France, explained what patient investments are, the risks and challenges of the sector. Punctuated with concrete examples of their activity, the debates highlighted the importance of finance in achieving fairer and more equitable inclusion of vulnerable populations, both in France and abroad, but also the importance of time in projects that can only be considered on the long term.
"Take the time to support social innovations." – Florian Peudevin
Time is a key concept in finance. Because it is linked to profitability, performance, and the clarity of their effects. Would going fast be a guarantee of success? No when it comes to impact investing. "To provide answers to the major challenges, we must innovate and take the time needed to support these innovations", explains Florian Peudevin. Investing in a project with a social impact means accepting that it experiences hazards and difficulties. "We are on the long term. We adjust the level of risk on which we want to position ourselves", agrees Mathieu Cornieti. "We do not run away in the event of a glitch", concludes Cyrille Langendorff.
Presented by Régis Wargnier, French director, President of PPS France, in the presence of Véronique Faujour, Managing Director of the Grameen Crédit Agricole Foundation, the experience of PPSE is a concrete example of what impact investing can represent for the inclusion of vulnerable populations, in particular young people. This support is all the more necessary in times of crisis such as the one experienced during the Covid pandemic which has undermined the financial situation of the company and, consequently, that of the artists and their families. The support of the Grameen Crédit Agricole Foundation and Crédit Agricole S.A. was crucial in enabling the company to take this step and continue to offer unique shows such as the one from which an extract was screened as an introduction to the round table.
Find the extract from the film "Same Same but different" here.
The entire film is available on the Qwest TV platform (subscription required).