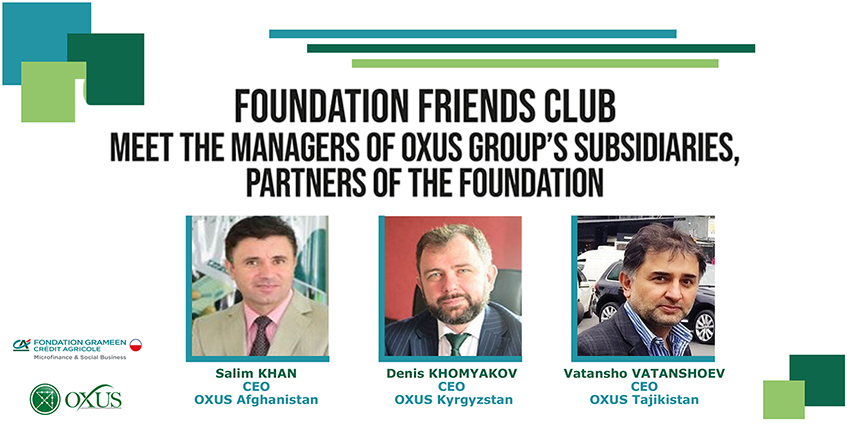 OXUS is a social and responsible company created by ACTED in 2005, to manage and develop microcredit activities, as a logical continuation of ACTED's development programmes. OXUS Network seeks to provide its clients in developing countries with adapted and competitive financial services while offering its investors attractive financial returns.
From its outset, OXUS has been a corner stone of ACTED's development strategy, by providing beneficiaries access to credit and opportunities to reach economic and social independence. As such, the OXUS Group's activities are part of a broader human development, economic performance and social development framework.
OXUS is now active in Central Asia and more specifically in Tajikistan, Kyrgyzstan and Afghanistan. Partner of the Foundation since 2013, OXUS presented its activity within the framework of a Foundation Friends Club meeting held on October 11th. The CEOs of the three subsidiaries thus presented their institution, their activity and the context of their action to the participants, with the particularly striking testimony of Salim Khan, Director of OXUS Afghanistan, who testified to the return of the Taliban to Kabul on August 15, 2021. HE also explained how the institution resisted in order to allow female employees and customers to live as normal a life as possible, given the context. OXUS Afghanistan is the only subsidiary of OXUS that is not currently supported by the Grameen Crédit Agricole Foundation.
This meeting was also an opportunity to discover the cross-testimony of Andréas Brunner, Solidarity Banker who went on a mission on behalf of the Foundation to Kyrgyzstan in October 2021, and Denis Khomyakov, CEO of OXUS Kyrgyzstan, and the positive impact of this technical assistance mission on the internal organisation of the institution.
You can now access the recording of this meeting, which was held in English, as well as the presentation of OXUS.
To find out more about the Solidarity Bankers programme, click here.
More information on the Foundation partners here.