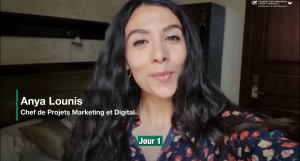 The Solidarity Bankers program, launched in 2018 by the Grameen Crédit Agricole Foundation and Crédit Agricole S.A., enables the Group's employees to contribute to socially useful projects using their skills. A variety of assignments are offered, either face-to-face or remotely, to support the Foundation's partner microfinance institutions and social and environmental impact businesses.
In this context, Anya Lounis from Crédit AGricole Leasing & Factoring and Anne Elizabeth Starr from CACIB went to Georgia for a two-week mission with Lazika Capital, a microfinance institution. Their objective was to analyze existing marketing initiatives, collaborate with local teams to develop the 2023 marketing plan and improve the management of financial product sales. Their testimonials reflect the positive impact of this experience.
Learn about their day-to-day mission on video through 3 vlog episodes :
Episode 1: Arrival in Georgia
;
Anne Elizabeth Starr, CACIB's Trade Finance Sales Manager for Financial Institutions, emphasizes the importance of the human aspect of this mission: "Anya and I had a common vision for this mission in Georgia: to accompany Lazika Capital in its objectives as best we could and to live this human adventure to the fullest! She also mentions the inspiring meetings with Lazika Capital's farmer clients, which enriched their understanding of the local needs and culture.
Anya Lounis, Marketing Project Manager at CAL&F, shares her enthusiasm for this professional and personal experience, which allowed her to put her skills to work in the field of financial inclusion: "This opportunity allowed me to take a step back and be open-minded. With Anne Elizabeth, we had to adapt since we were not familiar with the microfinance sector."
Lazika Capital, founded in 2000 in Georgia thanks to Oxfam UK, is a Tier 2 microfinance institution (organization with a portfolio between $10 million and $100 million). Based in Zugdidi, it operates through 18 branches in western Georgia and provides financial services to primarily rural, low- and middle-income entrepreneurs. Lazika Capital has 280 employees and 77 loan officers.