Interview with Aurélie Bellemin, Director, Fondation Solidarités by CA Centre-est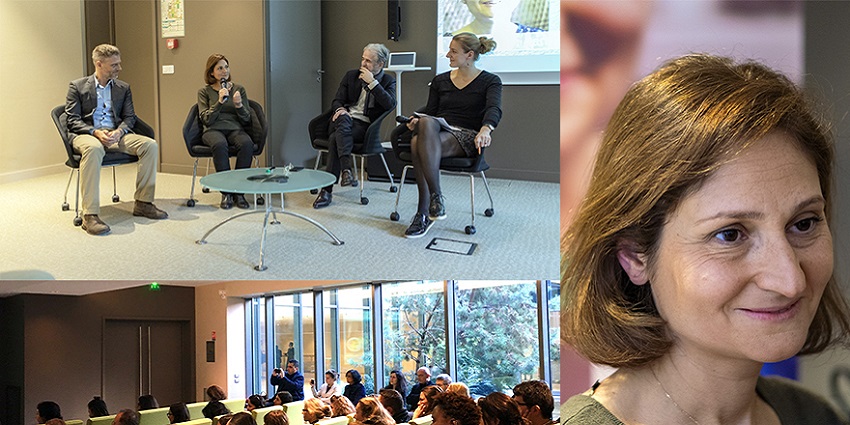 The Solidarity Cents operation is taking off within the Crédit Agricole Group. After a successful inaugural edition in 2018 on the Montrouge and Saint-Quentin campuses, the new edition was held from 18 to 22 November 2019. Organized by the Grameen Crédit Agricole Foundation, Crédit Agricole SA and Crédit Agricole Centre-Est, the operation has changed scale and has been extended to the three company canteens of the Crédit Agricole Centre-Est: Lyon-Champagne-au-Mont-d'Or, Bourg-en-Bresse and Mâcon.
With more than €8,600 collected at all the sites, the funds will finance the ICI d'Entrepreneurs du Monde [Incubation – Creation – Inclusion project of Entrepreneurs of the World] which guides and supports entrepreneurship projects carried out by refugees, single parents and homeless people.
— What is the Solidarity Cents operation?
Aurélie Bellemin, General Manager: It is a great collective adventure at Crédit Agricole to finance projects with a social impact. Employees at 5 sites of the Group can, if they wish, make a donation of 50 cents (or more!) when they pay for their meals at the canteens. The warm welcome extended to the initiative in 2018 in Montrouge and Saint-Quentin encouraged Crédit Agricole Centre-Est to join the operation and organize it on our three sites in 2019.
— How would you sum up this edition?
The generosity of our employees, our service provider and the Regional Bank enabled us to collect €1360, supplemented by additional financing from the regional bank. Solidarity Cents is an action that disseminates the Crédit Agricole's mutual assistance spirit. Employees participate and feel concerned about the concrete effects of the operation.
— What exactly are the funds collected used for?
For the second year, we are donating the funds collected by the NGO Entrepreneurs du Monde to finance its project Incubation, Creation, Inclusion (ICI) – a programme aimed at helping vulnerable people get integrated through the creation of micro-enterprises. The beneficiaries are trained and supported by volunteers and experts to give concrete form to professional projects, with an emphasis on digitization on the one hand and sustainable catering on the other. Some forty training schemes have already been financed thanks to the donations made in 2018.
— Do you have examples of beneficiaries?
Yes, when the operation was launched in November, Crédit Agricole employees from Montrouge and Lyon met Rania, supported by Solidarity Cents, who came to present the entrepreneurial project she has created. Rania is a Syrian refugee who has managed to launch her catering business based on Syrian specialities, thanks to guidance and support from the Entrepreneurs du Monde. This type of meeting helps to change the way we look at refugees and to understand that there are inspiring human destinies that transcend preconceived notions.
_________________________________________________________________
Source: Integrated Report 2019, Grameen Crédit Agricole Foundation. Dowload it here