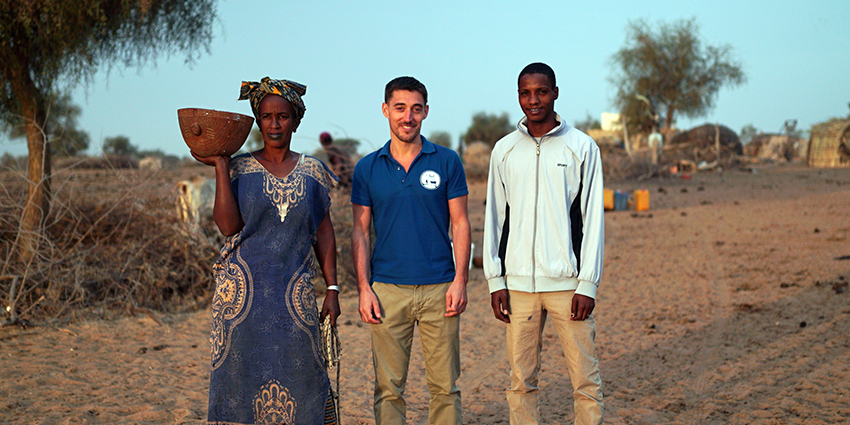 Supported by the Grameen Crédit Agricole Foundation, CA Franche Comté and Amundi, Kossam SDE is a subsidiary of Laiterie du Berger that aims to structure and strengthen the dairy industry in Senegal. In February 2020, Kossam SDE successfully launched the dematerialisation of the "payroll" for more than 850 farmers contributing to the improvement of their living and working conditions. Spotlight on the interview for Portail FinDev of Jonathan Michaud (former Solidarity Banker of CA Franche Comté) Director for the past 3 years of Kossam SDE) and Mamadou Fall, his Deputy Director, who shed light on this transformation.
1. What used to be a typical payroll day before the transition to digital payroll?
Jonathan Michaud & Mamadou Fall: Until February 2020, all farmers were paid in cash during one or two specific paydays. Farmers used to travel to the factory in Richard Toll to collect the money due to them. Firstly, the cash payment was inconvenient for the farmers. They had to arrive early in the morning and sometimes wait all day in high temperatures. In addition, farmers were forced to come to Richard Toll on a specific day to get paid, without being able to make it fit in with their other travel. It was also laborious for Kossam SDE, as the teams had to handle cash for two days with some pressure linked to the waiting time of the farmers, which can lead to errors.
In November 2019, the Kossam SDE team decided to digitalise and the first digital payroll took place in February 2020.
2. What are the concrete benefits of digitalisation for farmers?
JM & MF: We have identified 5 benefits for farmers:
Time saving. Today, a farmer no longer has to wait hours to receive the payment.
Security. Everyone knew which day the farmers received their pay, which could potentially create a context of insecurity with risks of theft.
Flexibility. Now all farmers receive their money on the same date, but collect it when they want.
Cost. The majority of farmers do not live in Richard Toll and travelling there has a cost. They can now optimise the cost of their journey by deciding the day they will collect their money.
Traceability. Each farmer is identified in our database with his/her telephone number and identity card. We can therefore be sure that it is the farmer who is receiving the money, as we know which telephone number the funds are being sent to.
3. What solution have you put in place with Wizall Money to pay farmers?
JM & MF: The vast majority of our farmers do not have a smartphone. They have a basic phone that can only receive and send calls and SMS. We therefore opted for a code sent directly to the farmers' phones. With this code and their ID, farmers go to the Wizall Money kiosk of their choice to withdraw their money. The beneficiaries (farmers) pay the costs associated with this service.
The introduction of this solution has clearly removed a considerable number of constraints for farmers, including time and organisation. In addition, we feared that farmers would be reluctant to pay for their money. However, the question of cost was not mentioned. On the contrary, it costs them much less than paying for transport to Richard Toll on a specific day of the month. We have not had any complaints in this regard.
4. More than a year after the digitisation was implemented, where do you stand? What is the next step?
JM & MF: The digitisation of the payroll was implemented just before the Covid-19 hit Senegal in March 2020, where drastic measures were quickly taken: curfews, forbidden gatherings, etc. Without digitisation, farmers would not have been able to move and would not have been paid.
Today, we are moving on to the second and final stage of payroll transformation. Indeed, there are 2 disadvantages to the SMS codes that our farmers receive on their phones: you need to have your own phone, which is not the case for all our farmers, and you also need a network. The main problem was that some people never received the code, so we had to keep paying them in cash.
To deal with this situation, we have provided all our farmers with an individual NFC card. The payment will be sent to this card in an electronic purse. Farmers can then go to a Wizall Money kiosk, hand over their card, enter their PIN and withdraw all or part of their money. There are no more network constraints and no more obligation to withdraw all the money paid in. This major innovation allows us to enter into new uses and services that are a form of micro-savings and passive savings.
From now on, we will be working on various subjects that digitalisation will enable us to tackle more effectively and with greater peace of mind: access to health insurance, development of savings and financial education.
________________________________________________________
(1) The Grameen Crédit Agricole Foundation and Crédit Agricole Franche Comté, shareholders of Laiterie du Berger, supported the creation of Kossam SDE as part of a technical assistance mission Solidarity Bankers, a skills volunteering programme of the Crédit Agricole Group. An agricultural engineer from the Regional Bank, who led the mission in 2018, left for 3 years to coordinate the launch of Kossam SDE. He is Jonathan Michaud, today General Manager of Kossam SDE.