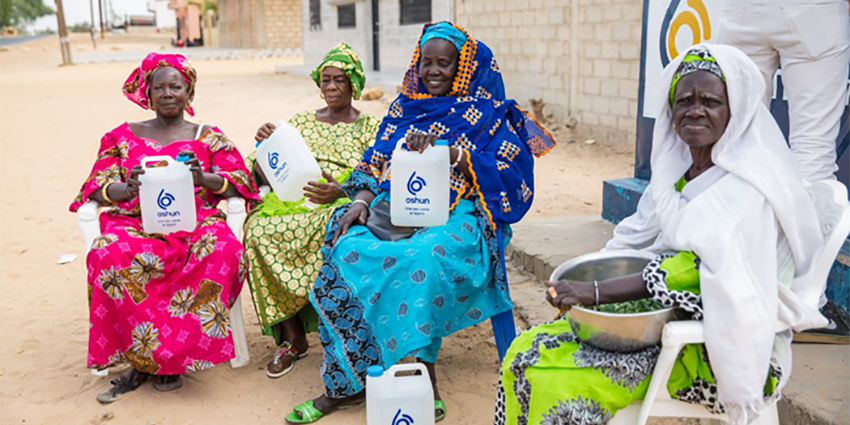 More than 2 billion people around the world lack access to safely-managed drinking water services (*). In Sub-Saharan Africa, 40% of the population does not have access to water, mainly in rural areas and 135 million people, mainly women and girls, travel more than 30 minutes per day to have access to drinking water.
It is in that context that OSHUN, created at the end of 2017 and a partner of the Grameen Crédit Agricole Foundation since 2018, deploys an innovative water access solution in rural areas. Through an economic model based on local entrepreneurship, OSHUN provides accessible quality water services at water kiosks, running on solar energy. These kiosks are managed by local entrepreneurs working as franchisees and integrate a digital component that optimizes their good management. This service, which is expected to develop widely in West Africa, has started in rural and peri-urban areas of Senegal and Burkina Faso.
Today, in addition to the kiosks, OSHUN is also working on installing water treatment systems in schools and health centres funded by public, private and solidarity partners. In collaboration with the NGO Marseille Provence Afrique Coopération, OSHUN has installed, since 2018, 120 water treatment systems in schools and health centers in Senegal. To date, this project serves around 40,000 beneficiaries with access to free drinking water. In addition to the installation and maintenance of equipment, OSHUN, in conjunction with community relays, sets up public awareness activities to help change behaviours. In the same spirit, the German Cooperation Agency for development (GIZ) has just ordered a turnkey project to OSHUN for the installation of 30 devices in health posts located in areas without electricity in Senegal.
In Burkina Faso, OSHUN is strengthening its action alongside the Société du Canal de Provence (SCP) as prime contractors in the rehabilitation of water pumps and the installation of water kiosks in 27 villages in the municipality of Bobo Dioulasso (second largest city in the country). Thus, the populations will be able to have access in the same place to raw water for domestic use and treated water for consumption. This project, which is to be completed in April 2021, will reach nearly 70,000 beneficiaries.
More information on OSHUN here.
_____________________________________
(*) Nations Unies