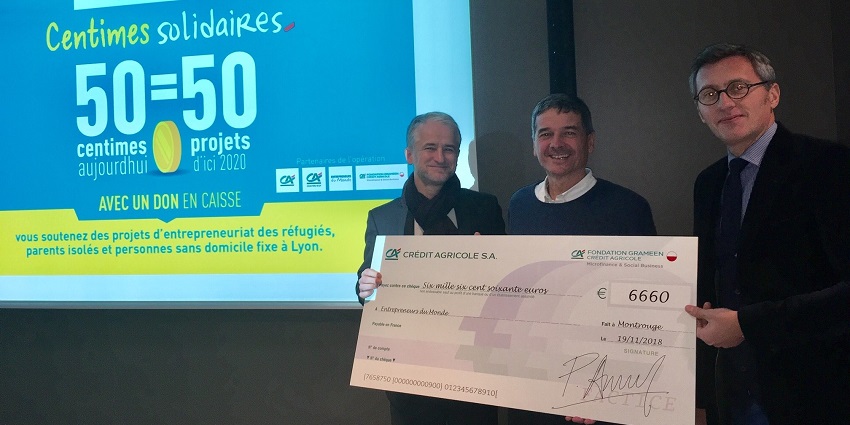 Alongside Crédit Agricole Group, the Grameen Crédit Agricole Foundation has been committed for 10 years to promoting inclusive finance and social impact entrepreneurship. To mark its 10 years of collective action, Crédit Agricole SA and the Foundation organised the "Grameen Crédit Agricole Foundation Week".
The Foundation Week was launched with the meeting "The Foundation and Social Impact Entrepreneurship" organised on November 19th. The event brought together three social entrepreneurs supported by the Foundation to discuss the main issues of the sector. It was also on this occasion that the NGO Entrepreneurs du Monde received the check corresponding to the amount collected during the Centimes Solidaires campaign.
___________________________________________________________
Created in 2008, under the joint impetus of the directors of Crédit Agricole S.A. and Professor Yunus, winner of the 2006 Nobel Peace Prize and founder of the Grameen Bank, the Grameen Crédit Agricole SA Foundation is a multi-business operator that contributes to the fight against poverty through financial inclusion and entrepreneurship with a social impact. As an investor, lender, technical assistance coordinator and fund advisor, the Foundation supports microfinance institutions and social enterprises in nearly 40 countries.