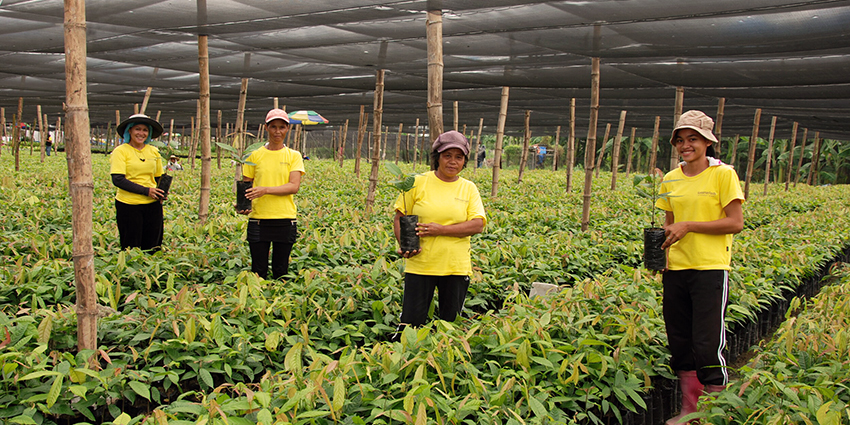 In July, the Grameen Crédit Agricole Foundation granted a first loan to Kennemer Foods International, in the Philippines, for an amount in USD equivalent to € 1.1 million.
Kennemer Foods International is an agricultural company with a strong social and environmental impact, active in the collection and processing of cocoa, bananas, and other agricultural products. It is also the largest Philippine supplier of cocoa beans on the international market. The company sources from approximately 20,000 small-scale producers, offering various services along the value chain: supply of high quality inputs, pre-financing solutions, guarantee of total harvest buy-back at prices linked to the global price, access to agricultural microinsurance solutions and training in sustainable cocoa growing practices. This support results in an improvement of farmers' life quality and an increase in their resilience in the face of increasing climate risks, while maintaining good soil health over the long term.
Kennemer created a subsidiary financial institution, Agronomika, to facilitate access to financing for small producers, and more recently another entity, Kennemer Eco-Solutions, to launch a carbon credit activity through the protection and restoration of forests in Mindanao , in the south of the archipelago.
According to Vincent Brousseau, Director of the Impact Companies Financing Unit at the Grameen Crédit Agricole Foundation, this partnership with Kennemer shows the 2025 ambitions of the Foundation's new medium-term plan. The Foundation will seek to partner with local actors positioned at the crossroads of the social and financial inclusion of rural communities as well as climate issues and the fight against biodiversity loss.
For Simon Bakker, CEO of Kennemer Foods, this partnership with the Grameen Crédit Agricole Foundation represents a strategic initiative with a like-minded organisation. Grameen Credit Agricole's mission of fighting poverty through financial inclusion and rural development is an excellent fit with Kennemer's own mission.
With this new investment, the Foundation is relaunching its activity in the field of impact companies financing. It currently has 8 impact companies' partners, particularly in the agricultural sector, which represents 64% of its funding.