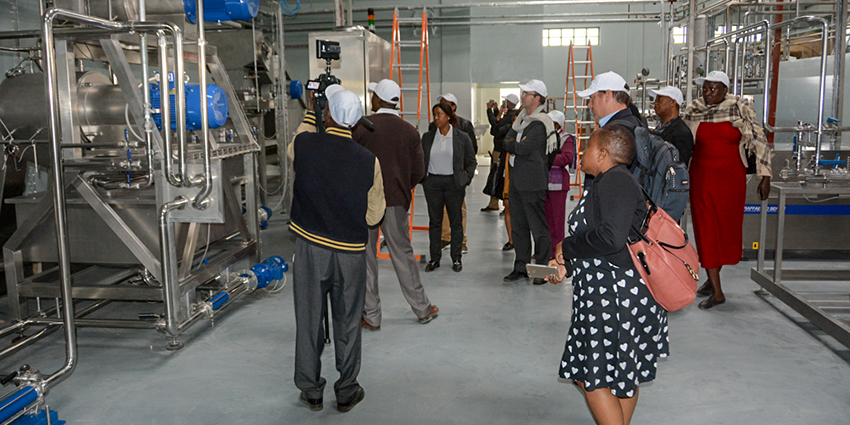 August 29, 2018 will undoubtedly be an unforgettable day for the employees and peasants who work for the company VERT Ltd in Kenya: the long-awaited inauguration of the new factory in Machakos, which should allow VERT Ltd to move up a gear .
Until now, this social enterprise, of which the Foundation has been a shareholder since 2016, only had a fairly small warehouse in the suburbs of Nairobi, near the airport, to receive fresh vegetables (green beans, peas, etc.) that it mainly exports to the Netherlands and Belgium. The new plant consists of two main buildings and was funded by capital contributions from the Grameen Crédit Agricole Foundation and the other new shareholder Kampani, a Belgian investment fund. With this new facility, VERT Ltd will be able to increase the export volume of fresh vegetables, but also develop a new line of products: the manufacture of mango pulp and passion fruit mainly for the local market and, ultimately , the marketing of dried mangoes for export. In addition, the plant includes a closed circuit for the use of water in the process of extracting pulp and reprocessing wastewater for the local consumption of drinking water.
It is therefore with great pride that the Foundation participated in the inauguration alongside the founders of VERT Ltd, Jane and Nderito Maina, employees of the company, representatives of smallholders and local authorities (Kenya Association of Manufacturers, County Representative, Micro Enterprise Support Program Trust). For the 1,800 small farmers with whom VERT Ltd works directly, this factory is a lever to significantly increase their income and the possibility of diversifying their production. By promoting stable export opportunities or for local markets, VERT Ltd will be able to amplify its role and increase its social and economic impact with smallholder farmers in Kenya.