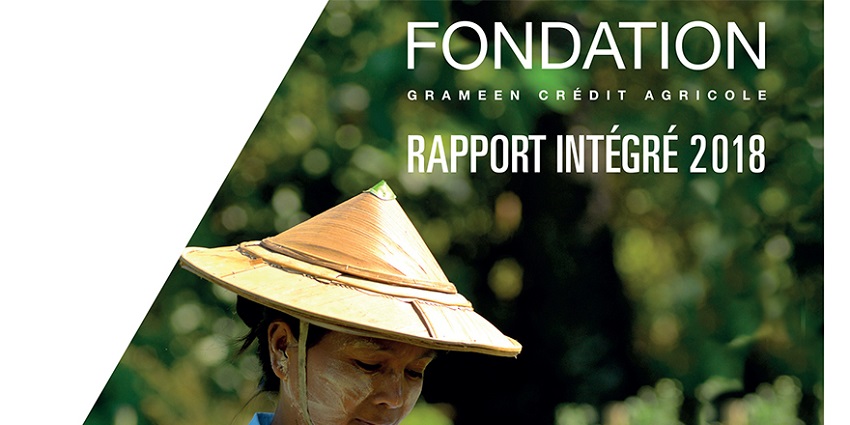 The Grameen Crédit Agricole Foundation publishes its 2018 Integrated Report, which describes the highlights, key figures and projects developed with its partners. 2018 was an important year for the Foundation. It marked the Foundation's 10th anniversary with several commemorative events celebrated alongside its partners and founders, Crédit Agricole and Professor Yunus, Nobel Peace Prize winner and founder of the Grameen Trust. Ten years later, the Foundation is positioning itself as a recognized player in the inclusive finance sector and is strengthening its action to contribute to the fight against poverty.
2018 was also a year of growth. As at 31 December 2018, the Foundation managed €73 million in assets and supported more than 70 partners in 34 countries in Africa, Asia and Europe. At the heart of its objectives, the Foundation promotes female entrepreneurship and rural economies through the institutions it supports: 75% of microcredit beneficiaries are women and 80% live in rural areas.
2018 was also a strong year for partnerships. Several projects have been launched with the Crédit Agricole Group: the development of cooperation schemes with Group entities abroad, the launch of the FIR, the Group's first microfinance fund, and the implementation of "Banquier solidaire", a skills volunteering programme open to all Group employees on behalf of the Foundation's partners.
2018 was also the year of preparation of the Foundation's Strategic Plan 2019-2022, which confirms the Foundation's commitment to strengthening the microfinance sector, developing rural economies and promoting impact finance.
To download the 2018 Integrated Report, click here.